Ketostix Reagent Strips, 100-Count Box
Sale!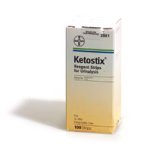 $19.34
Amazon.com prices as of: 2019-11-14 23:45:49 CDT
Product prices and availability are accurate as of the date/time indicated and are subject to change. Any price and availability information displayed on AMAZON.COM at the time of purchase will apply to the purchase of this product.
Brand: Bayer
UPC: 0301932881218
Model: 2881
Description
Dip-and-read test for ketone in urine, 100 count